To connect to MyUnixHost, we recommend you use PuTTY.
This page will walk you through setting up PuTTY to connect.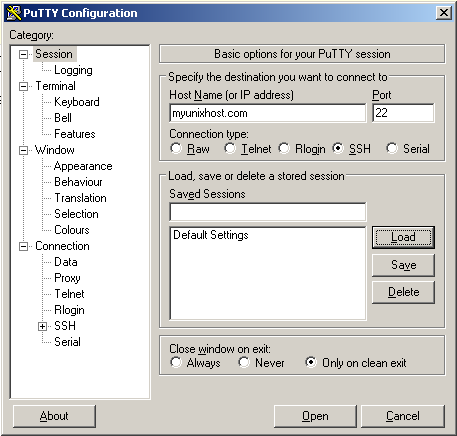 Configuring Putty
You will configure PuTTY with the following settings:
Host Name: myunixhost.com
Port: 22
You can save the session for future use by typing a name in "Saved Sessions" and clicking the save button.
See the image to the right if you are not sure.
Click Open and your session will begin. You will be prompted for your user name. Type it, and hit enter. You will be greeted with the following warning text:
* * * * * * * * * * * * * * W A R N I N G * * * * * * * * * * * * * * *
THIS SYSTEM IS RESTRICTED TO AUTHORIZED USERS FOR AUTHORIZED USE ONLY.
UNAUTHORIZED ACCESS IS STRICTLY PROHIBITED AND MAY BE PUNISHABLE UNDER
THE COMPUTER FRAUD AND ABUSE ACT OF 1986 OR OTHER APPLICABLE LAWS.
IF NOT AUTHORIZED TO ACCESS THIS SYSTEM, DISCONNECT NOW. BY CONTINUING,
YOU CONSENT TO YOUR KEYSTROKES AND DATA CONTENT BEING MONITORED. ALL
PERSONS ARE HEREBY NOTIFIED THAT THE USE OF THIS SYSTEM CONSTITUTES
CONSENT TO MONITORING AND AUDITING. THE ADMINISTRATORS ALSO RESERVE THE
RIGHT TO CANCEL OR LOCK YOUR ACCOUNT AT ANY GIVEN TIME. ALL TERMS
DESCRIBED ABOVE ARE SUBJECT TO CHANGE WITHOUT ANY GIVEN NOTICE. IF YOU
DO NOT AGREE TO THESE TERMS LOGOUT NOW!
* * * * * * * * * * * * * * W A R N I N G * * * * * * * * * * * * * * *
The system will prompt you for your password. If this is your first time logging in, after you type in your password, you will be prompted to change it.
You are now ready to get started with your new hosting account.